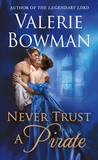 Never Trust a Pirate by Valerie Bowman
My rating: 5 of 5 stars
Thanks St. Martin's Press and netgalley for this ARC.
This is one of the the best romances of the year for me. It's just the right balance of danger, love, and intrigue. Not your typical, textbook,or formula romance here. This is grade A supercharged one of kind, stands on it's own fiction.